This article is about the character. You may be looking for titular episode.
Click here to see quotes from Sam Ryan.
Samuel Ryan[1], better known as Sam, is one of the main protagonists of PINY Institute of New York. Sam is a student at PINY: Pinypon Institute of New York in New York. He made his debut in the episode "First Impressions (Origins - Part 1)". He is part of "The Boys".
Appearance
Sam has brilliant azure hair and turquoise eyes. He wears a lime hoodie underneath his cerulean and white sweater and on his head is an indigo beanie with two lime green lines on the left side of the brim. His headphones that's on his neck has a grayish indigo headband, cerise and dark blue earbuds, and dark blue with two cerise dots speaker shells.
Personality
Sam is a kindhearted boy who's also the best friend of William Bradley. He always there to help people in need, especially to the Indie Girls. Because of his crush on Michelle , he's very nervous when she gets close to him and/or kisses him on the cheek.
Relationships

Click here to view the relationships of Sam Ryan.
History

Click here to view the history of Sam Ryan.
Sightings
Trivia
As Sam's name is a Jewish/Christian name those could be his faiths.
Sam likes to go out for dinners with his aunt and uncle.
Prior to Michelle moving on from Will in "Skater Boy", she has kiss Sam on the cheek multiple times with the first being in "Secret-Non-Admirer" but all of it was a friendly kiss.
In "Sam Side Story", the Tri-Hop refers him as Michelle's boyfriend but in a teasing way.
Sam seems to know how to speak fluent Spanish as seen in "Skater Boy".
Galleries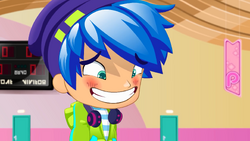 References