"
Your ego is bigger than One Direction. And there's 5 of them!
"
Click here to see quotes from Austin Zimmer.
Austin Zimmer is a famous celebrity and is a famous singer in New York. He first appears in "American Mydol". He is also Lilith's cousin but Lilith hates him.
Personality
"
I don't think he is so amazing.
"
Austin is flirty and charming. He tries to impress girls (which annoys Lilith Henderson and William Bradley). He also seems to be quite fair as he gave the girls the scores that matches their outfits in "Catwalk on Water". And quite skilled at other things than singing such as riding yachts as in "Catwalk on Water" Lilith asks him to ride to save Michelle Fairchild, Stella Marie, Tasha Robinson and Armando.
Appearance
Austin is in a similar stature to Will and has Dark blonde hair and light blue eyes.
Austin wears a Navy-blue shirt with a magenta star on it. On top of that, he wears a black jacket with white sleeves. Additionally, as an accessory he wears a sapphire blue cap that says "ZIMMER" in gold. The tips are magenta. Another accessory is his sunglasses that he wore in "Labyrinth". He wears a golden chain and has mint stud earrings.
Abilities
As a civilian
Austin is exceptional at singing. He can also ride a yacht as seen in "Catwalk on Water".
Relationships
As revealed in "American Mydol", Austin is Lilith's cousin. They seemed to know each other for a long time and in their past life, Austin has been cracking ridiculous jokes towards Lilith that annoy her. He likes Lilith but she doesn't by sometimes insulting him. But personally, Lilith knows he is talented as she asks him to ride the yacht.
In the episode "Catwalk on Water", it seems that Austin knows the two of them as he tries flirting with them. Julia in particular he says that: "Who's the best, you're the best." to Julia.
Austin briefly meets James when he needs advice in "American Mydol". He later on chooses James to sing along with him in his next concert at PINY.
Triva
Austin is voiced by Justin Bieber.

This was also hinted by Rania Forbes in "American Mydol".
A lot of Austin's aspects are based on Justin Bieber as they are both singers and are charming artists.
Also Justin Bieber sang the song "Moonlight" that was said to sang by Austin himself storywise.
Sightings
History

Click here to view the history of Austin Zimmer.
Galleries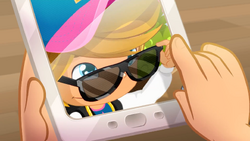 References
↑

As said by Rania Forbes

↑

As said by POP synopsis